sherlockcharacteranalysis
asked "(Part 2) Usually I'd say a sure sign is that often INTJ's/INFJ's will say something insightful, but the insight is something that wraps together a bunch of seemingly disparate things into "a point." Moreover, the evidence they provide is such that even though it all supports "the point," if you just had the evidence, I don't think you could explicitly piece it together to make "the point" yourself. (Unlike say, Ti, which uses a more recognizable logic.) Hmm, not sure if that helped at all..."
I'm going to include your other ask since they're both connected:
"It's hard to detect Ni unless the person having it tell you about it, I think. In some ways, unlike Fi, Ti, and Si, it's like my Ni is something completely independent of myself and *I* don't even understand half the time how it works/what its' trying to tell me. So usually INTJ's/INFJ's present themselves with their auxiliary/tertiary functions unless you know them well."
Yeah, I've looked in quite a few forum threads on PC where Ni users were trying to explain the function and they said pretty much the same thing. It seems to be a very abstract concept. I can detect something like Ne since I use it myself, so when I see a Ni user all I can say is "they don't use Ne so it must be Ni", but then again Ni can sometimes look like Si and so on… It's all so confusing.
I've heard Ne be described as something like deductive reasoning. Like, you see this whole big concept and then break it down into tiny bits of information, eliminating the impossible until you get to the specific thing you're looking for.
Ni though, seems like magic! It gets to the specific thing 10 steps ahead and then has to backtrack in order to figure out how the hell they got that idea. And then to make it even more confusing, a lot of Ni users seem to not even to know how they came to a conclusion in order to explain to other people. (Actually, looking back that's like how Sherlock and Mycroft are isn't it? Which would make sense since we've both agreed that they're INTP and INTJ…) 
Anyway, although I sort of know how to describe what it is I still don't know if I'll ever be able to actually see it in use.
Usually I'd say a sure sign is that often INTJ's/INFJ's will say something insightful, but the insight is something that wraps together a bunch of seemingly disparate things into "a point."
So when a Ni user speaks, would you say that it's almost like how students are taught to write an essay? Like their opening statement is this big insightful comment and then the rest of what they say is breaking down/trying to explain their original thought? I know whenever I was writing an essay in school I always had to write the body first and then come up with the introduction later once I had all my thoughts written down…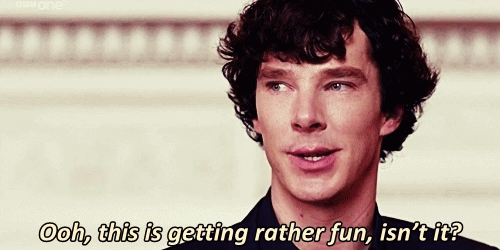 8 notes